Ginga Squad heads to Iber Cup KW Record Article
Local soccer squad headed to Portugal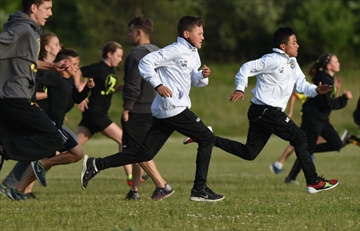 Ginga Soccer
Mathew McCarthy,Record staff
Noah Niemiec, centre, in white, and Mauricio Estrada run Tuesday during a fitness drill with their Ginga Soccer U13 team in Cambridge.
Waterloo Region Record
As Euro 2016 enthralls much of the soccer world, a local team is preparing to travel across the Atlantic for a significant competition of their own.
The under-13 boys team of Kitchener-based Ginga Soccer Academy will be heading to Estoril, Portugal later this month to compete in one of four Iber Cup tournaments. The annual competition is one of the largest and most prominent youth soccer tournaments in the world, drawing approximately 32,000 players from more than 60 countries to competitions in Spain, Portugal, Denmark and the United States.
But more impressive than the numbers is the calibre of competition.
The Ginga team — which features players from throughout the region — will be joining a field that includes youth teams affiliated with some of the top clubs in Europe. Their first game at the tournament will be against the under-13 squad of Portuguese power Sporting Lisbon, while smaller Portuguese teams Custioias FC and Os Belenenses round out their group.
And if they advance through the group stage, the local kids could find themselves up against the youth teams of big-name European clubs Spanish giant Sevilla FC, Paris Saint-Germain of France and Blackburn Rovers of England.
"It's a big privilege, we get to play against some top teams," said Ginga player Mauricio Estrada, 13, of Cambridge. "It'll be great to see how they play as a team and how focused they all are."
Ginga is the only Canadian team in the under-13 division at the Estoril tournament, which features squads from Portugal, Spain, England, France, Norway, Poland, Greece, Austria, the U.S. and Mexico. And for all but one of the local players, this competition will mark their first time playing in Europe.
Noah Niemiec, captain of the Ginga under-13s, travelled to Barcelona, Spain two years ago with Ginga's under-12 program. In addition to turning some heads with his play at that tournament, Niemiec got to see first-hand the differences between North American and European soccer — both on the field and off.
"Over there, it's so serious. Everything is soccer, soccer, soccer," said the 13-year-old Waterloo product. "Here, there are all kinds of sports and hockey's definitely No. 1. But over there, their mindset is only on soccer."
For Ginga head coach Kevin de Serpa, tournaments like this are a big part of preparing his young players to take the next steps in their careers.
"The experience will be spectacular for them," he said. "We get to play Sporting Lisbon in our first game and they're known as a factory of unbelievable players. They're basically second to Barcelona in their reputation for the amount of players they produce.
"The most important thing will be getting them this big (playing) experience, but it's a life experience as well."
De Serpa, a Kitchener native, played professionally in Norway, Portugal, Scotland, Spain and Brazil as well as with Canada's national team. He founded Ginga Soccer in 2009 and the academy now features under-10, under-12 and under-13 boys teams and an under-15 girls team, in addition to running a variety of skill development programs.
De Serpa believes opportunities to play in tournaments like the Iber Cup can be huge for a player's development; however, they can be rare experiences for Canadians.
"If you want to be a hockey player, it's easy, you drive down the street and you go watch the Rangers. You want even better? Drive a little further and go watch the Leafs," he said. "Noah saw it in Barcelona. We took them to watch the final of that tournament, which was Sevilla and Atletico Madrid and they all saw the level they had to get to."
On top of playing in high-level tournaments, Ginga teams play in the Canadian Academy of Futbol league, which features elite academy teams from the GTA and London. Through two league games this season, the Ginga under-13s are 2-0.
The Iber Cup kicks off June 28, which is when the Ginga under-13s will open their tournament versus Sporting Lisbon.
Justin Fauteux's column appears on Wednesdays. He can be reached at fauteux.j@gmail.com , Twitter: @JustinFauteux